PNB, or Punjab National Bank, is one of the largest banks in India, and recently PNB has launched PNB Insta Loan that offers personal loan upto 8 lakh and e mudra loan upto 50000.
Personal loans like PNB Insta Loan can be incredibly valuable for those who need fast access to funds.
With PNB Insta Loan, you can get the money you need quickly, without having to go through a lengthy application process or provide collateral.
In this article, we'll take a closer look at PNB Insta Loan and how to apply for it. We will also discuss the benefits of pnb insta loan
Types of PNB Insta Loan
PNB Insta Loan offers two types of loans:
Personal Loan: PNB Insta Personal Loan is a pre-approved loan offered to existing customers of the bank who have a satisfactory record of repaying their loan and credit card dues, good income, and a strong relationship with the bank.
The loan is offered at an attractive interest rate and can also be provided to customers who have no credit history, based on their income and transaction history.
e-Mudra Loan: e-Mudra Loan is a digital lending product designed by PNB for micro and small entrepreneurs. This loan offers seamless sanction of Mudra Loans up to Rs. 50,000 for business requirements. With the help of e-Mudra Loan, entrepreneurs can avail of the loan easily and quickly, without any hassle.
Eligibility Criteria
To be eligible for a PNB Insta Loan, you must meet certain requirements. These include:
Age limit: You must be between the ages of 21 and 58 years old to apply for this loan.
Employment status: You should be a salaried individual or a self-employed professional.
Income requirements: Your minimum monthly income should be at least ₹15,000 for a salaried individual and ₹25,000 for a self-employed professional.
Credit score: You must have a good credit score of at least 700 to be eligible for this loan.
Other requirements: You should have a savings or current account with PNB, and you must have been working for your current employer for at least 2 years (if salaried) or 3 years (if self-employed). Additionally, you should be a resident of India and should have a valid PAN card.
It's important to note that meeting these eligibility criteria doesn't guarantee approval of your loan application. Other factors such as your repayment history, existing debt, and the amount you're requesting will also be taken into consideration.
Features of PNB Insta Loan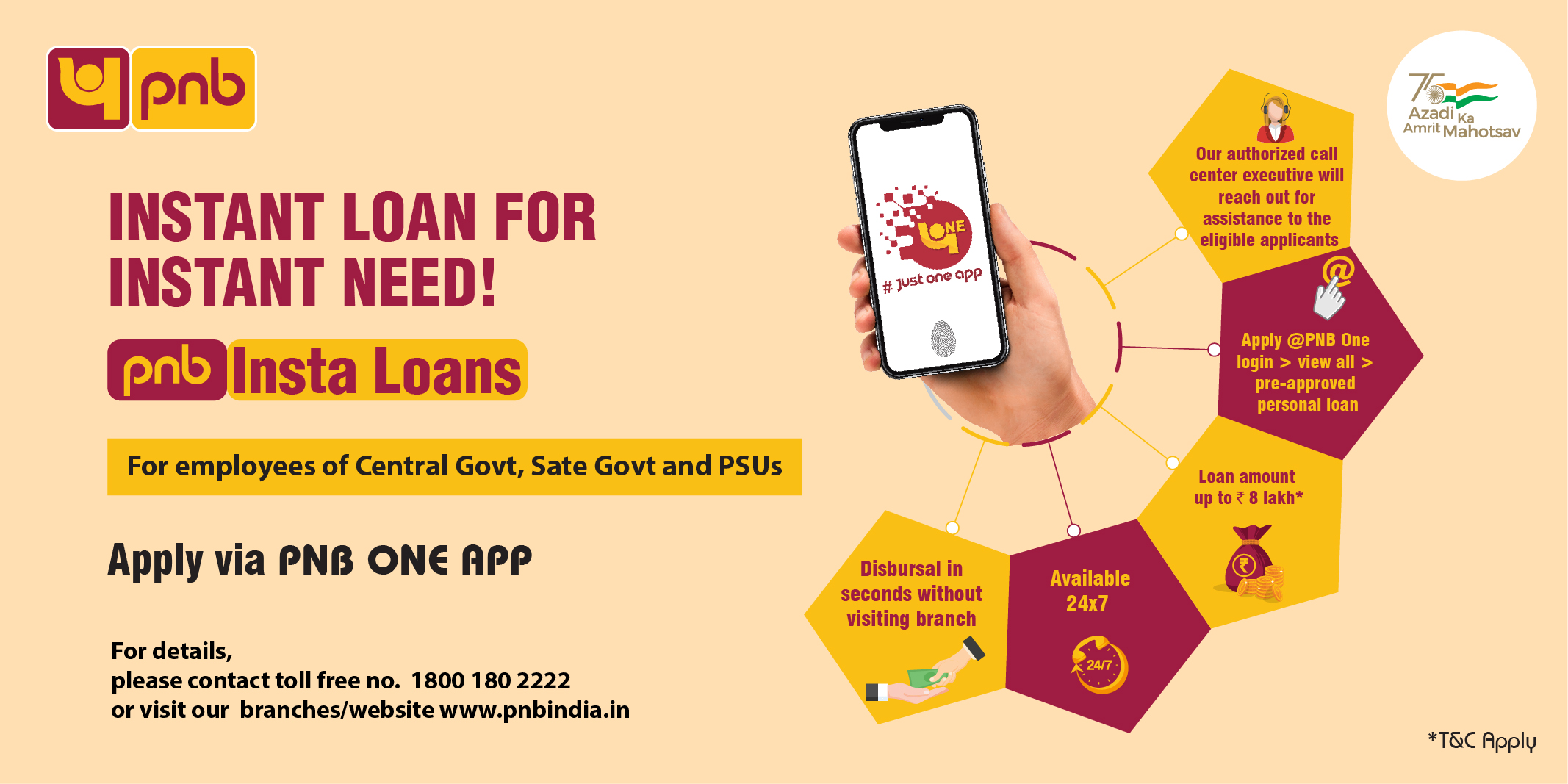 When it comes to personal loans, the features offered by PNB Insta Loan make it a popular choice among customers. Here are some of its key features:
A. Loan amount
PNB Insta Loan offers personal loans up to 8 lakh rupees, which can be used for various purposes such as home renovation, wedding expenses, medical emergencies, etc.
The e-Mudra Loan offers loans up to Rs. 50,000 for micro and small entrepreneurs.
B. Repayment tenure
PNB Insta Loan offers flexible repayment tenure ranging from 12 to 60 months, depending on the borrower's repayment capacity and loan amount.
The e-Mudra Loan offers a maximum repayment tenure of 36 months.
C. Interest rate
The interest rate offered by PNB Insta Loan is competitive and attractive, starting at 9.60% p.a.
The e-Mudra Loan interest rate is based on the Mudra Loan guidelines.
D. Processing fee
PNB Insta Loan charges a nominal processing fee of up to 0.5% of the loan amount, depending on the loan type and amount.
The e-Mudra Loan charges a processing fee of up to 1% of the loan amount.
E. Disbursement time
PNB Insta Loan has a quick loan disbursal process, and the loan amount is credited to the borrower's account within a few hours of loan approval.
The e-Mudra Loan also has a quick disbursal process, with loan disbursement within a few days.
F. Prepayment and foreclosure charges
PNB Insta Loan allows borrowers to prepay or foreclose their loan at any time during the loan tenure, with nominal charges of up to 2% of the outstanding loan amount.
The e-Mudra Loan also allows prepayment and foreclosure with a small charge of 1%.
How to Apply for PNB Insta Loan ?
PNB Insta Loan application process is quick and easy. Here's a step-by-step guide to applying for the loan:
A. Online application process:
Visit the official website of PNB at pnbindia.in.
Click on 'Online Services' and then click on 'InstaLoans'
Now, click on 'Personal Loans' or 'e-Mudra Loans'.
Fill in the required details like customer ID and registered mobile number.
Authenticate your mobile number.
After this, click on 'Personal Loans' or 'e-Mudra Loans'.
Fill in the required details
Enter your Aadhaar number.
Then tick on the consent.
Click on the 'Submit' button.
Enter the six-digit OTP received on your mobile for Aadhaar authentication.
Now, enter the required personal details and other information such as loan amount, tenure, and so on.
Click on the 'Next' button to complete the process.
B. Required documents for PNB Insta Loan:
Aadhaar card
PAN card
Bank statements
Salary slips
Address proof
C. Steps to follow:
Check your eligibility
Calculate your loan amount and EMI using PNB's online loan calculator
Visit the PNB website and complete the online application process
Submit the required documents
Await loan approval and disbursement
D. PNB Insta Loan Application status tracking:
PNB customers can track their Insta Loan application status online by visiting the bank's website and entering their application reference number or mobile number.
Advantages of PNB Insta Loan
PNB Insta Loan comes with a range of advantages that make it an attractive option for borrowers. Here are some of the key advantages of PNB Insta Loan:
A. Quick approval and disbursement
PNB Insta Loan offers quick approval and disbursement of the loan amount, making it ideal for those in urgent need of funds.
The online application process and minimal documentation requirement ensures speedy processing and disbursal of the loan amount.
B. Flexible repayment options
PNB Insta Loan offers flexible repayment options to suit the borrower's financial situation.
Borrowers can choose from a range of repayment tenures that best suit their needs and repayment capacity.
C. No collateral required
PNB Insta Loan is an unsecured loan, which means that borrowers do not have to pledge any collateral or security against the loan amount.
This makes it an ideal option for those who do not have any assets to offer as collateral.
D. No prepayment penalty
PNB Insta Loan does not charge any prepayment penalty, which means that borrowers can prepay the loan amount without incurring any extra charges.
This helps borrowers save money on interest charges and also reduces the overall cost of the loan.
E. Competitive interest rates
PNB Insta Loan offers competitive interest rates that are comparable to those offered by other leading banks and financial institutions.
This makes it an affordable option for borrowers looking to avail a personal loan at a competitive rate.
Conclusion
In conclusion, PNB Insta Loan is a hassle-free solution for individuals seeking immediate financial support for emergencies or other purposes.
With its attractive interest rates, flexible repayment options, and no collateral requirement, it is a popular choice for many customers.
We have covered the eligibility criteria, types, features, and application process of PNB Insta Loan in this article. We hope this guide has provided you with valuable insights and information about the loan.
If you are a PNB customer and meet the eligibility criteria, we highly recommend applying for PNB Insta Loan for your financial needs.
The quick approval and disbursement process, along with the competitive interest rates, make it an ideal choice for many borrowers.
Looking ahead, PNB is continuously striving to improve and innovate its financial products and services. As such, we can expect PNB Insta Loan to offer even more benefits and features in the future.