Are you tired of boring credit cards with no real perks? Do you want to be rewarded for your spending habits and feel like a high-roller without breaking the bank? Look no further than the SBI Simply Save credit card!
With a multitude of benefits, this card will make you wonder how you ever lived without it. From cashback offers to 10x reward points, the SBI Simply Save credit card has it all. So why settle for mediocrity when you can explore the world of SBI Simply Save credit card benefits and start living your best life?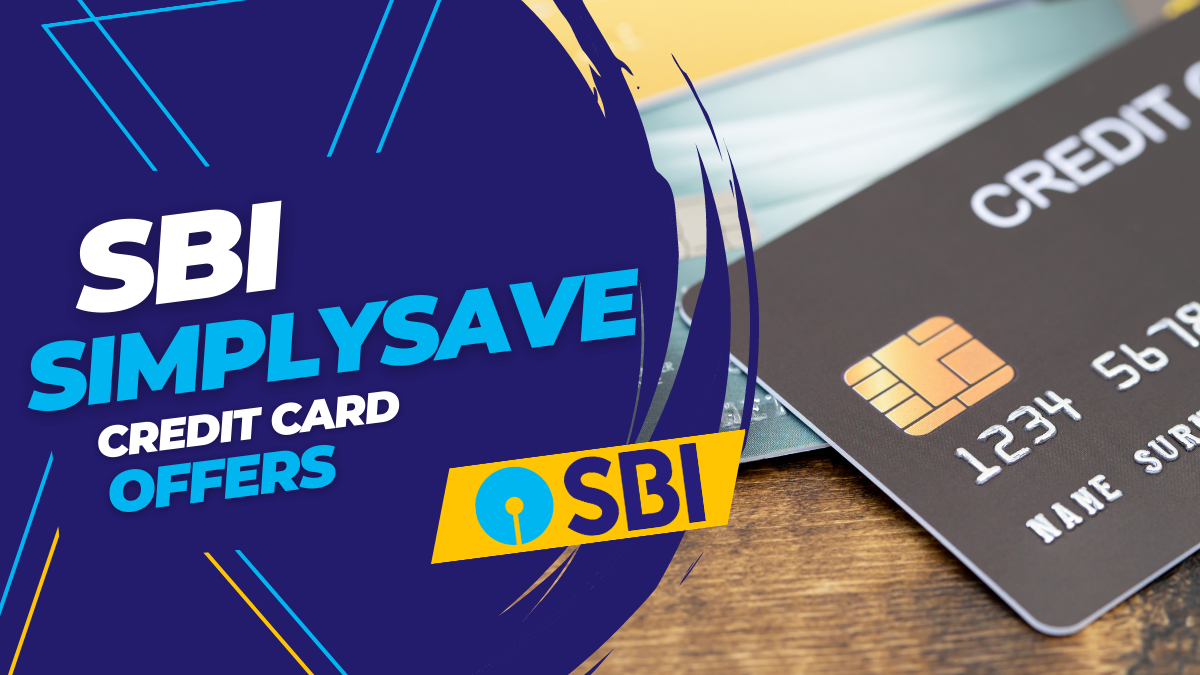 Let me tell you, SimplySAVE SBI Card is the gift that keeps on giving.
Extravaganza Offer
With the Extravaganza Offer, you can get 2,000 bonus reward points by just spending Rs. 2,000 or more in the first 60 days of getting your card.
It's like getting a bonus on top of a bonus – who doesn't love that?
10x Reward Points
And if that's not enough to get you excited, how about earning 10x Reward Points for dining, movies, departmental stores, and grocery spends?
That's right, every time you hit up your favorite restaurant, catch a flick, or stock up on groceries, you'll earn a boatload of Reward Points.
0% Fuel Surcharge
And let's talk about fuel, shall we? With the 0% fuel surcharge benefit, you can say goodbye to those pesky surcharges every time you fill up your tank. It's like getting free fuel with every purchase. Can someone say road trip?
Spend Based Reversal feature
Last but not least, the Spend Based Reversal feature is a lifesaver. It offers an annual membership fee reversal from the second year of subscription based on your annual spending.
So, not only are you raking in the rewards, but you're also saving money in the long run.
Ah, the heart of the matter. Let's talk about the goodies you can expect with the SimplySAVE SBI Card.
Reward Points
First off, let's talk reward points. Every time you use your card to make a purchase, you earn one reward point for every Rs. 150 spent.
And what can you do with these points? Well, you can use them to pay off your credit card balance or redeem them for some swanky gifts.
Now, let's move on to the welcome offer. If you make an ATM cash withdrawal within 30 days of receiving your card, you'll get a cool Rs. 100 cashback. That's like finding a Rs. 100 note in your pocket that you didn't even know you had.
Contactless Features
But wait, there's more. With the SimplySAVE SBI Card, you can take advantage of the contactless feature, which means you can wave your card at a secure reader to make purchases. No need to dig through your purse or wallet for cash or coins.
And speaking of security, our contactless feature is also designed to prevent fraud due to skimming or counterfeit. It's like having your own personal bouncer for your card.
Worldwide Acceptance
But the perks don't stop there. With the SimplySAVE SBI Card, you can use it anywhere in the world, with over 24 million outlets accepting it globally, including 3,25,000 outlets right here in India.
You can even withdraw cash from over a million Visa or MasterCard ATMs worldwide. So go ahead, plan that trip to Bali or Paris or wherever your heart desires.
Add-On Card Facility
Oh, and did we mention you can also get add-on cards for your family members? Now your parents, spouse, children, and siblings over 18 can all enjoy the perks of being a SimplySAVE SBI Cardholder.
Other Benefits
And last but not least, we've got some nifty features like the Easy Bill Pay facility, Balance Transfer on EMI, Flexipay, and Easy Money. These features can save you time, money, and headaches, and we've made it easy for you to take advantage of them on our website.
So there you have it. The SimplySAVE SBI Card isn't just any ordinary credit card. It's your passport to a world of perks, rewards, and convenience.
Fees and Charges Associated with SBI Simply SAVE Credit Card
Type of Charges
Fee
Annual fee
Rs.499
Renewal fee
Rs.499
Finance charge
Up to 3.50% per month (42% per annum)
Cash advance fee at domestic ATMs, international ATMs, and SBI ATMs
2.5% of the transaction amount or Rs.500 (whichever is higher)
Overlimit
2.5% of overlimit amount or Rs.600 (whichever is higher)
Late payment
Rs.0 to Rs.500: NIL
Rs.500 to Rs.1,000: Rs.400
Rs.1,000 to Rs.10,000: Rs.750
Rs.10,000 to Rs.25,000: Rs.950
Rs.25,000 to Rs.50,000: Rs.1,100
Rs.50,000 and above: Rs.1,300
Card replacement
Rs.100 to Rs.250
Rewards redemption fee
Rs.99 (only on cash redemption, gifts, and specific vouchers)
All you need is your:
Identity Proof
Address Proof
PAN Card
Passport Size Photograph
Income Proof Document
and Bank Statement.
How to Apply for SBI Simply Save Credit Card
With SBI Cards official website and Rapidloans.in , you can now apply for the SimplySAVE SBI card from the comfort of your own couch.
follow these simple steps to apply online.
Click on the 'Check Eligibility' button on the page.
Fill in your details and let our system work its magic to determine your eligibility to apply for the card.
If you are eligible, congratulations! You will be redirected to the online application page.
Now, fill in the application form with all the necessary details.
Finally, upload and submit the required documents. And voila! Your application is complete. Now, sit back, relax, and wait for the approval. In the meantime, you can practice your happy dance moves for when you get the good news.
SBI Credit Card Customer Care – Helpline Numbers
Don't hesitate to reach out to the SBI Card helpline at 1800 180 1290 (toll-free) or 1860 180 1290 (tolled number) & 39 02 02 02 (prefix local STD code).
The friendly customer service representatives are always ready to assist you with any inquiries you may have.
FAQs (Frequently Asked Questions)
What is the limit of SBI Simply Save credit card?
The credit limit on your SBI Simply Save credit card will depend on your credit score, credit history, and your income level.
Is SBI Simply Save credit card free?
The SBI Simply Save credit card is not completely free. There is an annual fee of Rs. 499, but the fee can be waived off if you spend a certain amount using your card in a year.
Which is better SimplyCLICK or SimplySAVE?
The SimplyCLICK credit card is better suited for online shopping, while the SimplySAVE credit card is better for general spending. So, it depends on your spending habits.
How can I avoid SBI credit card annual fee?
You can avoid the SBI credit card annual fee by spending a certain amount using your card in a year or by availing the card during an ongoing promotional offer.
Can I get SBI credit card with 15000 salary?
Yes, you can get an SBI credit card with a salary of Rs. 15,000. However, your credit limit will be determined based on your credit score and credit history.
Can I withdraw cash from credit card?
Yes, you can withdraw cash from your credit card, but there will be a cash advance fee and interest charged from the date of withdrawal until the date of payment.
Can I withdraw money from SBI simply save credit card?
Yes, you can withdraw money from your SBI Simply Save credit card, but there will be a cash advance fee and interest charged from the date of withdrawal until the date of payment.
What is the ATM withdrawal charges for SBI simply save credit card?
The ATM withdrawal fee for SBI Simply Save credit card is 2.5% of the amount withdrawn or Rs. 300, whichever is higher.