Keeping track of one's bank transactions is an essential part of financial planning. With the convenience of online banking, downloading account statements has become effortless.
Bank of Baroda customers can access their account statements in multiple ways, including through net banking, mobile banking, and e-statements.
In this article, we will guide you through the process of downloading a one-year account statement using Bank of Baroda net banking.
So, whether you're planning your taxes or just keeping track of your expenses, let's explore how to get your hands on your BOB account statement quickly and easily.
Why We need To Download Bank of Baroda Account Statement ?
Think of account statements as a summary of all your banking transactions. They provide a detailed breakdown of all the money coming in and going out of your account, making it easier for you to keep track of your finances.
You can use your account statements to monitor your spending, identify fraudulent activity, and reconcile your accounts.
Ways to Download Bank of Baroda Account Statement Online
Bank of Baroda Mobile Banking
E-statement
Each of these options has its own unique benefits and features, making it easy for Bank of Baroda customers to access their account statements online. Whether you prefer to use your computer or mobile device, there is an option that will work for you.
BOB Netbanking
Bank of Baroda Mobile Banking
Provides the mPassbook app to its customers using which they can access all transactions anytime and anywhere
Using Baroda mPassbook, the account holder can also download the BOB account statement for offline use
E-statement
A digital statement that is sent directly to the registered email ID of the customer
Provides immediate access to the account information
BOB e-statement can be generated for any period of time and will be sent as an email on the registered IDs of the users
How to Download 1 Year BOB Account Statement with Bank Of Baroda Net Banking
Here's how you can get your Bank of Baroda 1-Year Account Statement with ease:
Step 1: First things first, let's log in to Bank of Baroda Internet Banking. Enter your User ID and login password. If you can't remember your password, take a deep breath, and try again.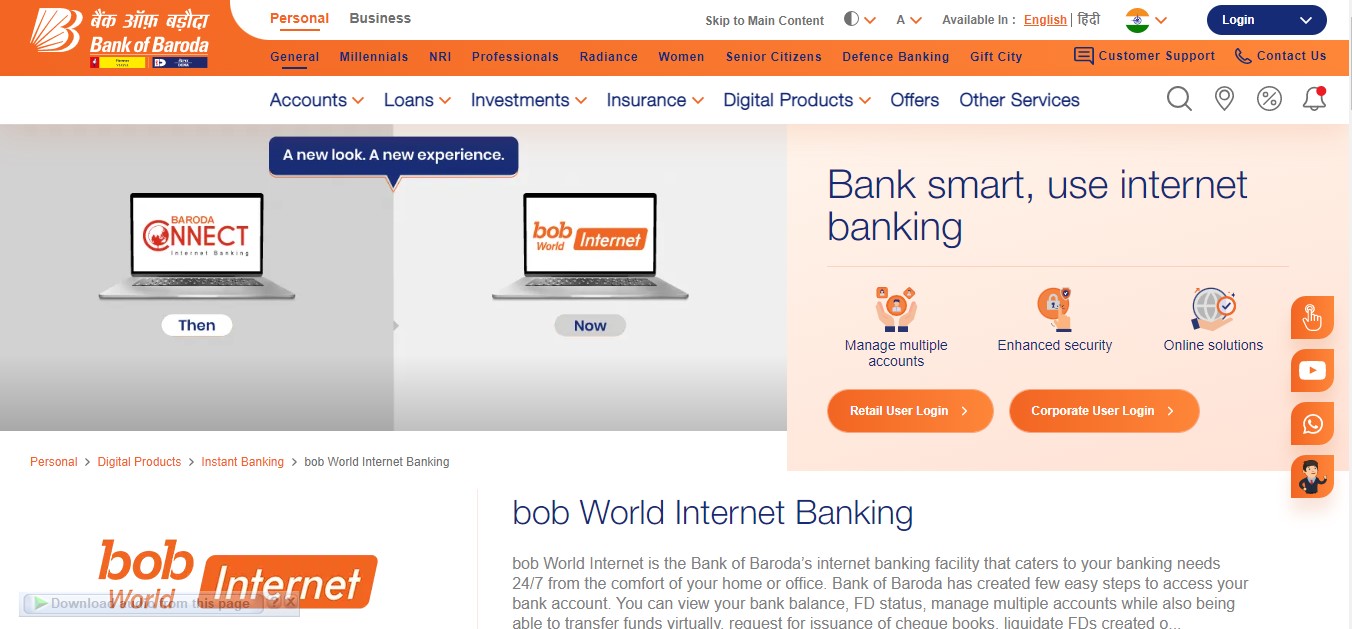 Step 2: After logging in, click on the Accounts tab. It's like magic, you'll see the Account statement more than 6 months, click on it.

Step 3:Click On Operative Accounts and you will get your account number there on the screen.
Step 4: Click on three dots as shown in the above image to generate account statement.
Step 5: Click on Generate Accout Statement tab as shown in above image.
Step 6: Click on search transaction tab to filter date you want to download bank statement of.
Step 7: On the next screen, select a date range between 1 year and click on the statement. Remember, you can only download a one-year (365 days) statement.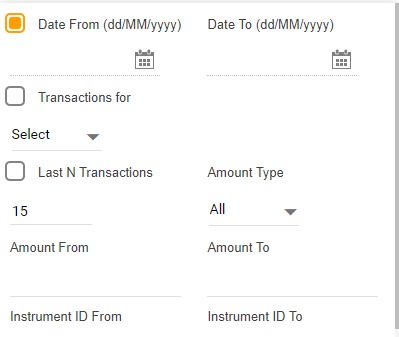 Step 8: Now, select the account statement format. You can choose between PDF or Excel format. Once you've made your selection, click on the statement to download the file. It's like ordering pizza, except you get a Bank statement instead. Yay!
Step 9: Congratulations, you did it! Your account statement will be saved in your local storage. You can open the statement PDF file in any PDF reader app.
But wait, there's more! If you're not satisfied with this method, there are other ways to get your Bank of Baroda Account Statement.
You can install BOB mPassbook application from the play store and apple store and view the account statement.
Or, you can register your email ID and subscribe to the free monthly statement facility to get an account statement every month on the registered email ID.
How To Open Bank Of Baroda Account Statement PDF Password ?
The password to open bank of baroda account statement pdf consists of 8 characters.
First Four Characters- of your name in Capital letters
Last Four Characters- of your date of birth in DDMM format.
Example — If your name is Suresh and your Date of Birth is 01-JUN-1989 then the
password to open Bob credit card statement would be SURE0106.
Other Ways To Get Bank Of Baroda Account Statement
But wait, there's more! If internet banking isn't your cup of tea, don't fret. Bank of Baroda has got you covered with a few other options:
BOB World/mPassbook application: This handy dandy app allows you to view your account statement anytime and anywhere. So whether you're sitting on the toilet or on a roller coaster, you can always stay on top of your finances.
Email subscription: If you prefer a more old-school approach, you can subscribe to receive your account statement via email. Just make sure to check your spam folder
Mobile banking: For those of you who are always on the go, mobile banking is the perfect solution. You can download up to 3 months of your account statement directly to your device.
Conclusion
And there you have it folks, multiple ways to access your Bank of Baroda account statement.
Remember, it's important to regularly review your account statement to ensure all transactions are accurate and to detect any fraudulent activity.
Plus, who doesn't love checking out all those sweet sweet numbers? So go ahead, get access to your account statement
Is Bank of Baroda Bank private or government?
Bank of Baroda is a government-owned public sector bank.
What is BOB minimum balance?
The minimum balance requirement varies depending on the type of account. For example, the minimum balance requirement for a savings account is Rs. 500 for rural and semi-urban branches and Rs. 1000 for urban and metro branches.
Which bank is fully government?
There are a few fully government-owned banks in India, including State Bank of India, Bank of Baroda, Punjab National Bank, and Central Bank of India.
How can I check my BOB account balance by SMS?
To check your BOB account balance by SMS, you need to send an SMS in format to "MINI < space="" /> Last 4 digit of account numberE.g. if account number is 17610400000811 type: MIN 0811" . The bank will then send you an SMS with your account balance.
How can I check my BOB balance on WhatsApp?
To check your BOB balance on WhatsApp, you need to add the bank's WhatsApp number to your contacts and send a message "send a 'Hi' from your WhatsApp to 8433888777".