The IDFC FIRST Select Credit Card is one of the most sought-after credit cards in India, and it's easy to see why. With its amazing rewards and benefits, it's no wonder that everyone wants a piece of the action.
In this article, we'll be taking a closer look at the IDFC FIRST Select Credit Card, discussing its eligibility requirements, documents required, and how to apply. We'll also dive into the rewards and benefits of the card, and of course, discuss the fees and charges.
If you're a credit card user, you know how important it is to have a card that rewards you for every transaction you make. Well, the IDFC FIRST Select Credit Card is here to do just that.
Let's take a closer look at some of the features and benefits that make this card stand out from the crowd.
Reward Program
Get ready to earn and redeem reward points like never before!
You can earn 10X Reward Points on incremental spends above ₹25,000 per month and spends done on your birthday. Plus, you can earn 6X & 3X Reward Points on online & offline purchases respectively for spends up to ₹25,000 per month.
The best part? Your reward points will never expire, so you can use them anytime to pay for online or in-store purchases.
Earn 1 Reward point per ₹125 spent, and 1 Reward point is equal to ₹0.25.
Note that the reward program is not applicable on Fuel, Insurance, EMI transactions & Cash withdrawals. Additionally, rental and property management transactions will not be a part of the 10X reward program and 10X threshold calculations. However, such transactions will earn 3X reward points.
Benefits & Privileges
The IDFC FIRST Select Credit Card comes with a host of benefits and privileges that are designed to delight you year after year.
Joining Benefits:

Get a welcome voucher worth ₹500 on spending ₹15,000 or more within 90 days of card generation.
Enjoy 5% cashback (up to ₹1000) on the transaction value of your first EMI done within 90 days of card generation.

Movie, Online and Dining Discounts:

Avail a 'buy one, get one' offer on movie tickets up to ₹250 on Paytm mobile app (valid twice per month).
Get 300+ merchant offers all year long, up to 20% discount at 1500+ restaurants, and up to 15% discount at 3000+ health & wellness outlets.

Premium Benefits:

Enjoy 4 complimentary domestic airport lounge visits per quarter and 4 complimentary railway lounge visits per quarter.
Get lucrative discounts on airport transfer limousine service across 3000+ cities in 83 countries.
Avail discounts on Airport Fast Track immigration service at over 450 destinations worldwide.
Enjoy personalized concierge services for dining, staycations, flights and activities.
Access over 900 luxury hotels worldwide with premium benefits such as automatic room upgrade upon arrival, complimentary in-room Wi-Fi, complimentary continental breakfast, VIP guest status, 3PM check-out upon request, and more.

Insurance and Road Assistance:

Get complimentary Roadside Assistance worth ₹1,399.
Avail a fuel surcharge waiver of 1%, at all fuel stations across India, up to ₹300/month. Note that this benefit is applicable only on transaction values between ₹200 & ₹5000.
Enjoy air accident cover of ₹1 crore, personal accident cover of ₹5,00,000, and lost card liability cover of ₹50,000.
Get comprehensive travel insurance cover of ₹22,500.

Other Privileges:

Convert all transactions above ₹2,500 into easy and convenient EMIs on your mobile app.
Avail instant EMI conversion for all online transactions above ₹2,500 on the bank's OTP page.
Enjoy convenient transfer of balances from your other bank credit cards with our balance transfer privilege.
Get ready to experience the power of a premium credit card with the IDFC FIRST Select
Reward Redemption of IDFC First Select Credit Card
Effective 1st October, 2022, a convenience fee of ₹99 (plus applicable taxes) will be levied on redemption of Reward Points.
Eligibility Criteria for IDFC FIRST Select Credit Card
It's important to know if you meet the criteria before you start dreaming about all the rewards and benefits.
You must be at least 18 years old.
You need to be either salaried or self-employed with a decent monthly income of atleast Rs. 25000 per month. If you're unemployed, well, there's always the option of selling your organs. (Kidding, please don't do that!)
A decent credit score is a must. If you don't have one, you're going to have to work on it.
Documents Required for IDFC FIRST Select Credit Card
Identity proof: PAN card, Aadhaar card, Passport, or Driving License. No, your horoscope won't work.
Address proof: Aadhaar card, Passport, Voter ID card, or utility bills. And no, your Hogwarts acceptance letter won't work either.
Financial documents: Bank statements, Salary slips, or ITR.
How to Apply for IDFC FIRST Select Credit Card ?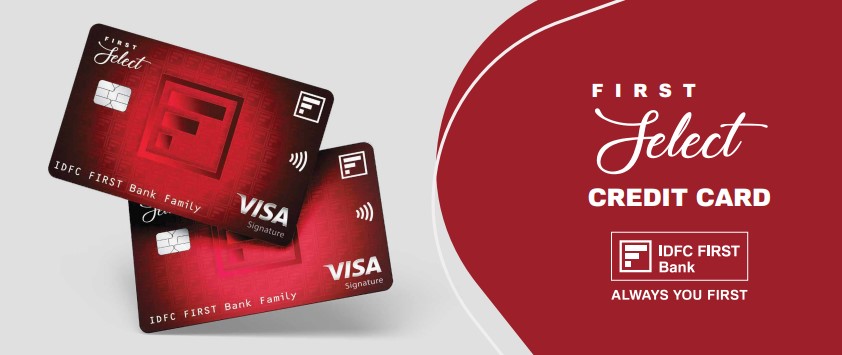 The IDFC FIRST Select Credit Card application process is a breeze. Here's how you can apply for it online:
Step 1: Visit the IDFC FIRST Bank website and navigate to the credit card section.
Step 2: Click on the "Apply Now" button and fill out the required details such as name, date of birth, address, contact details, and income information.
Step 3: Upload the necessary documents such as identity proof, address proof, and financial documents.
Step 4: Review the application and submit it.
Step 5: Once you submit the application, you will receive an email or SMS confirmation. The bank will then review your application and contact you for further details if required.
See, that wasn't so hard, was it? Now, if you're the kind of person who prefers a more personal touch, you can also apply for the IDFC FIRST Select Credit Card offline. Just visit your nearest IDFC FIRST Bank branch and fill out the application form. Don't forget to bring your required documents with you.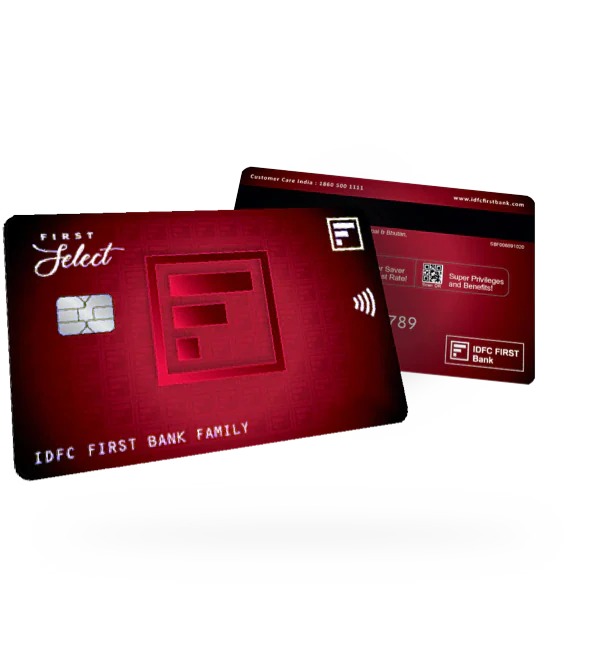 Explore the numerous features and benefits of IDFC First Select Credit Card
Earn reward points on every transaction and redeem them anytime
Lifetime free credit card with no annual fees
Fees and Charges of IDFC First Select Credit Card
Get ready to be pleasantly surprised because the IDFC FIRST Select Credit Card comes with low fees and high benefits. Take a look at the table below to see the fees and charges associated with this credit card:
| Fees and Charges | Amount |
| --- | --- |
| Annual fee | No annual fee. Lifetime Free Credit Card |
| Finance charges on outstanding Balance | From 0.75% to 3.5% per month (9% to 42% per annum) |
| Cash Withdrawals Charges | Interest-free cash withdrawals on Domestic and International ATMs for up to 48 days (Cash Advance Fee of only ₹199 per transaction) |
| Late payment fee | 15% of Total Amount Due (subject to a minimum of ₹100 and a maximum of ₹1250) |
| Over-limit fee | 2.5% of the over-limit amount subject to a minimum charge of ₹500 |
| Foreign currency markup fee | 1.99% for all international transactions |
Conclusion
In conclusion, the IDFC FIRST Select Credit Card is a great option for anyone looking for a lifetime free credit card with low fees and high benefits.
With a low-interest rate, no annual fee, and various rewards and benefits, this card can be an excellent addition to your wallet. The application process is straightforward, with both online and offline options available.
Moreover, the eligibility criteria are not too restrictive, and the required documents are standard.
So, if this credit card meets your needs, don't hesitate to apply for it and start enjoying the perks that come with it.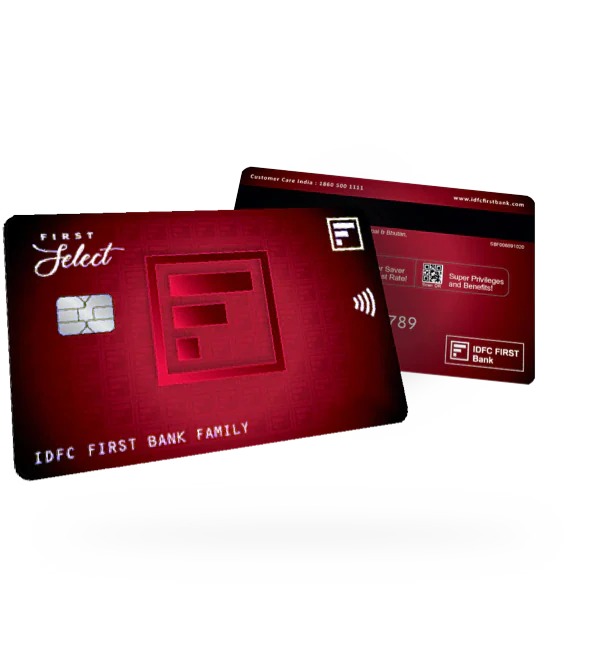 Explore the numerous features and benefits of IDFC First Select Credit Card
Earn reward points on every transaction and redeem them anytime
Lifetime free credit card with no annual fees